The ageing population brings new issues all the time
Here are some of the problems we have helped people solve
For expert advice, opinion pieces, photos and comment
call 01227 454 900
Fresh From our success in the Dragons Den at RGA,
we were shortlisted for an Innovation award and we won a Customer Services Award Celebrating Local Businesses
March 29th 2018
We were in the final 10 of the Dragons Den and invited back for very meaningful conversations about keeping people well and financially secure in their later years. Then, to celebrate the success of great local businesses, Best Business Events and their partners, The Institute of Directors, The Federation of small businesses, local magazine (The Canterbury Index) and local radio (Heart radio) run a competition to reward local businesses.
Agilis Mobile and Dynamix sponsored the award and the celebrations.
AGILIS Mobile Customer Services Director, Tina George, commented; "Being nominated can have a positive effect on the company and its employees"  Congratulations go to Seniors Helping Seniors® for the Customer Services award.
Christian and Sally Wilse run Seniors Helping Seniors® UK and the Canterbury & Thanet office.  Christian explained "How our carers interact with our customers affects health and wellbeing and a family's memories, so winning the Customer Services awards is important."
Seniors Helping Seniors® was shortlisted for the Innovation and Customer Services awards.  Doing things very differently to other care companies and other employers was the reason for the Innovation shortlist and Christian said they "were delighted to be shortlisted to champion the skills of experienced carers.
"But there is nothing better than a Customer Services award in Care. Definitely the one to win," he said. "It says so much about the help we provide at a very important time in people's lives. A time that impacts a lot of people."
The Seniors Helping Seniors® mission is to improve the expectations of ageing.  Services support people to stay independent. Everything from changing a light bulb, to community trips and respite for people living with dementia.
"How we do that is where the magic lies," says Christian. "We take the friction out of the processes wherever we can. Respectful, thoughtful, patient and helpful throughout the client journey."
Seniors Helping Seniors® has 20 years of success all over America. Winning the Customer Services award after five years here in the UK is the result of a lot of listening to what people want and shows how right the care model is for what people want now.
People need and want a fast response to their enquiries but they don't want to be rushed. They want care that fits around their lives, they want flexibility, they want a fair price and to be able to plan. Above all they want a fully managed service they can rely on with back up and expertise for all eventualities.  They want the best experienced carer. They want to know the carer well and they want to get on with them.
GPs and Care Commissioners call Seniors Helping Seniors® "perfect primary care" because of the long term benefits.
Seniors Helping Seniors® is in three locations in the UK. Canterbury and surrounding towns and villages, Harrow & Pinner and surrounding towns and villages, and Guildford, Woking & Godalming and their surrounding towns and villages.
"With the energy, these awards create," Christian says, "we look forward to enquiries from more people looking for support in these areas to live well as they age and from carers looking to work for a company that puts them at the centre. Happy and well supported carers, makes for exceptional customer service"
To find out more about the awards and how to enter your business  www.businessawardskent.co.uk  
 To find out more about Seniors Helping Seniors (UK) Ltd
Tel: 01227 454 9000 https://www.seniorshelpingseniors.co.uk/
Interview with Christian after the win 
To find out more about working for an award winning care service  https://www.seniorshelpingseniors.co.uk/want-to-help/
To find out more about running an award winning care service in  another area https://www.seniorshelpingseniors.co.uk/start-a-centre/
Big Ideas Competition
March 20th 2018
The Reinsurance Group of America works with Incisive Media and Cover Magazine  on a Dragons Den type competition to hear ideas from the community. The aim is to uncover ideas that will invigorate the life, health insurance and retirement industries and to get behind them.
This is the first year we entered and we are delighted to have made the final!
We've demonstrated how Seniors Helping Seniors helps solve the challenges affecting  life and retirement today, and how we help people live well and thrive.  Now let's hear if they think our we are thinking big enough!
Read  more about the competition here and please wish us luck on Wednesday 28th March.
Congratulations to the other finalists and a very special shout out to Caron of Caron Cares
Success and social impact for Franchisee of the Year and People's Choice award finalists and our calls to entrepreneurs to run care businesses as franchisees in our UK network
February 13th 2018
Start ups
Startups.co.uk The UK's No.1 starting a business resource, asked us about the success and social impact Seniors Helping Seniors is having a year after we were  shortlisted for the Franchisee of the Year award at the Startups Awards 2017.
Now, the franchise is calling on entrepreneurs and aspiring business owners to open care businesses as part of its network, with a goal of offering elderly clients "flexibility, full support and peace of mind" Read more here 
 50 great tips to build a website
February 7th 2018
Start ups
 Startups.co.uk asked us to contribute to their free e-book on Start-up success: These tips from some of the UK's best are to help build a website. Our contribution is on building authenticity and trust
"Trust and authenticity .. we have no gimmicks, lots of personality, and use optimistic colours. Quick wins like using stock photos are a no-no for us. The images we use show  how real carers of a similar age to their elderly clients, who we have matched because they have similar interests, help the client fulfill their dreams, stay motivated and contribute to the activities of daily living in local community settings."
The 14 Best Businesses To Start in 2018
January 15th 2108
Business Matters
The UK's leading SME business magazine for UK's thriving small and medium sized business sector.  Business Matters reaches decision makers in the SME whose businesses turnover between £200,000 to £6M. To start the New Year it reviewed Seniors Helping Seniors as part of its new list of new industries about to take 2018 by storm for anyone thinking 2018 could be the year  to launch their own venture.
Care services franchises such as Seniors Helping Seniors UK, which enables retired entrepreneurs to own and run home care businesses in their local areas, has seen growth ascent. Since launch in 2014, the chain has expanded to over 40 care work providers.
For those looking to combine profit with purpose .. the care home market presents a winning business opportunity.  Read more here
Harnessing your skills and show you care
National Story: Daily Mail
November 9th 2017
Career Mail is a regular section in the printed Daily Mail national newspaper. They often look at opportunities for the ageing population.  Knowing we provide work for older workers and business opportunities for people who want to set up their own Seniors Helping Seniors, they contacted us when they published an article on management skills.  The article appeared in print and the author Linda Whitney kindly gave her permission to refer to her Career Mail article
Harnessing your skills and show you care
IF YOUR career background is in management, it is a useful skill to transfer to a franchise.
Christian Wilse and his wife Sally run the Seniors Helping Seniors franchise in Canterbury, Kent, employing older people to prove elderly care services.
And Christian, the UK master franchisor of Seniors Helping Seniors, is also recruiting UK franchisees with management skills and heart.
"Over 95 per cent of Seniors Helping Seniors' 300 franchisees across the globe, left the corporate world to concentrate on doing something worthwhile with their skills" he says.
Seniors Helping Seniors franchisees match carers to clients and use their project management and operational skills for efficient scheduling and logistics.
Andy Boothman, a former management franchisee at a cleaning franchise who is considering investing in Seniors Helping Seniors, says, "My people skills will transfer well to Seniors Helping Seniors, and I will use my financial management and marketing skills. As a former franchisee I also know franchisors help you develop skills you lack.
Christian adds: ' we want to hear from people with management skills.  The current investment required is £10,000 so it does not usually make too big a dent in a redundancy package or pension pot.
Providing rewarding work to an ageing population
What Franchise Magazine
November 2017
Linda Whitney featured Seniors Helping Seniors®  in What Franchise Magazine to explain how our managed care service makes a rewarding business you can run from home and the opportunities of our franchise.  Seniors Helping Seniors  provides services for an ageing population, is often run by older business people and the workforce is predominantly older workers because they have the experience and love the work
Seniors Helping Seniors explains why old fashioned is best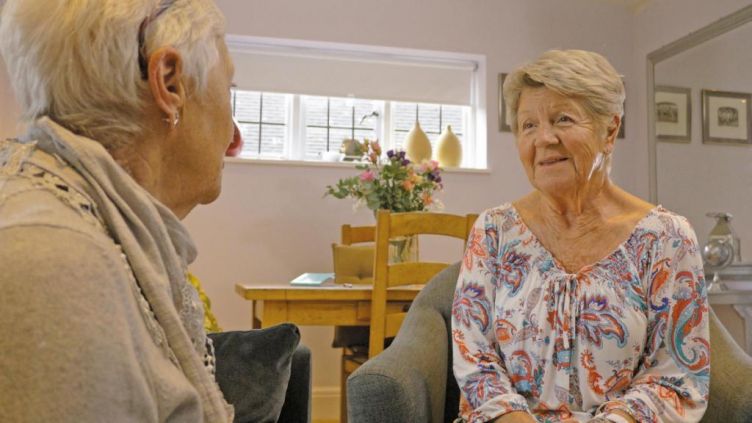 In the very near future, it's going to be increasingly unusual for retirees not to work.
The driving forces are increased life expectancy, economic uncertainty, a re-visioning of later years, where people want to do something useful and rewarding, and the elimination of the idea that pensions will be able to sustain us. Fortunately, there's also greater need for the skills of older people. Especially in care.
Compassionate
Seniors Helping Seniors has a 20-year franchising history and an award winning care brand in the UK, which represents loving, caring, giving and compassionate care.
An emphasis on service, which could be called old fashioned, may not be the most obvious money making opportunity, but there's no lasting substitute.
Automation, databases and dealing with people as if they're problems that need solving in the most efficient way all make sense to the bottom line, but they're not polite or dignified and they don't put clients first.
Quick fix solutions have a knack of coming unstuck when things like life get in the way.
What people need when they're looking for care for the elderly is a fully managed service they can trust. They want to be able to plan and rely on it to adapt and accommodate events in their lives and events in carers' lives.
Seniors Helping Seniors is not greedy for profit. Every decision made is about doing the right thing for clients and staff and it's evidence that doing good first makes great money.
Elderly care is provided by older carers with either professional care backgrounds or experience of caring for loved ones. The work is well paid, rewarding and flexible, so it fits nicely around their later life commitments.
The company has no issues attracting or retaining carers because carers are fully supported, well paid and fully respected.
The care provided is outstandingly effective because the carer is carefully matched to the client, personally introduced and the schedule is well managed. Because carer and client are of similar ages and they have a lot in common, the care is more easy to accept, even by the most fiercely independent. The objective is to keep people safe, well and living in their own homes as long as possible.
Opportunities
The BBC filmed a special news report on the success and opportunities at Seniors Helping Seniors. Clients are eager to have help in the south east and east of the UK as soon as possible, so the company is looking to recruit new franchisees here first.
The service provided by Seniors Helping Seniors is out of the scope of the Care Quality Commission because it's not 'personal care', so the set-up costs of this franchise are significantly less than care models offering personal care.
The franchisor is a British Franchise Association member and has experience of what is takes to repeat and reproduce successful businesses in different locations. The care and support Seniors Helping Seniors franchisees receive is as outstanding as the care provided to clients.
This is a way to run your own business, as opposed to looking for work yourself at 50-plus years of age.
Helping Hand coming from the Senior Service
National Story: Daily Mail
21st September 2017
The newspaper leads with a front page story "Shame of Care Homes That Just Don't Care" and how there are "four serious failures probed every day, 100 care firms struck off in a year and charities warning of 'frightening crisis'" The Daily Mail's policy editor Daniel Martin laid bare the extent of the crisis in the elderly care system and  Linda Whitney's asked us how Seniors Helping Seniors is helping. The article  appeared in print and the author Linda Whitney kindly gave her permission to refer to her Career Mail article
Focussing on the problems of an ageing population appeals to older entrepreneurs 
British Franchise Association
BFA's What Franchise magazine asked us how fully managed elderly care services help families
The over-50s have come to dominate start-ups. The combination  of private pension payouts being accessible at 55, more employees being offered redundancy in their 50s and the knowledge that most 50-year-olds have another 30 years of active life are tempting more people to become entrepreneurs. 
Starting a business in your 50s is easier than you think!
Startups.co.uk
Start ups is the UK's leading independent online business resource, they interviewed us about our business to help them 
shake off the notion that starting a business in middle-age isn't a good idea.
More than four out of 10 new businesses in the UK are started by people over 50, 
over 55s are now 63% more likely to start businesses than 10 years ago and 
those who start a business in their 50s are 42% more likely to be successful than their younger counterparts. O
lder entrepreneurs have the advantage of being able to tap into wealth of experience and knowledge and how we are looking for 
good-hearted entrepreneurs to become Seniors Helping Seniors business owners in UK.
59-year-old Christian Wilse launched the UK franchise arm of elderly home care service Seniors Helping Seniors in January 2014, after received funding from The Start Up Loans Company to start the business.
Based in Kent, Wilse's business helps seniors and their families by offering compassionate, loving care from fellow seniors.
Wilse and his wife have been working full-time for the business ever since launch date. They are the only full-time employees but work with around 100 part-time care providers – on a typical month's payroll the company will have around 40 working care providers. Due to most of the care providers being retired, they will work around 10-20 hours a week, but the shift patterns are very flexible.
Previously, Wilse spent most of his career as a successful businessman in the media field. He ran a media monitoring company, and set up Tiscali in Norway (where he is originally from), amongst other business ventures.
Additionally, Wilse is actively looking for good-hearted entrepreneurs to become Seniors Helping Seniors business owners.
Pros and cons 

 worth considering before you invest in a franchise at 50-plus
Making Money Magazine
Making Money Magazine asked us to identify the pros and cons

worth considering before you invest in a franchise

Top 10 Care Award based on client recommendations
Homecare.co.uk
May 1st 2017
Seniors Helping Seniors Scoops Top 10 Award
Seniors Helping Seniors has been recognised as a Top 10 Recommended Agency Group in the UK by Homecare.co.uk – The leading UK home care website
Seniors Helping Seniors® secured it's place as one of the Top 10 home care groups in UK after just five years operating in the UK. because clients go out of their way to thank us and  recommend us at every opportunity?
The brand has twenty year's care experience internationally and launched in Kent in 2013
Seniors Helping Seniors® won the award from the leading guide to home care www.homecare.co.uk  The award is based on reviews and the current score is 9.910
Davina Ludlow, director of homecare.co.uk, said:"Home care agencies, which put compassion, dignity and kindness at the heart of their care, are making a huge difference to people's lives.
"Seniors Helping Seniors® has proved that it provides a high standard of care throughout its organisation and we'd like to congratulate it on being a top home care group! We feel it is a real achievement to be recognised for being one of the Top 10 home care groups in the UK."
"Looking for the right home care provider can be tough. We hope our awards will help to make people's search that little bit easier." 
Christian Wilse head of Seniors Helping Seniors® said:
"A National award is great because it shows how many people we are helping. The elderly people we support are based in Kent and Middlesex currently with more locations coming.   Their families live all over the world and more often than not its the families who take the time to reference what they have found to be special about us, so others know that elderly care can be a great experience.
We are keen to share our unique way of working with anyone who feels they could be ready to make a difference to elderly care in their own locations. There are clients and carers waiting in every town in the county.  We'd particularly like to hear from people who are thinking of starting a business in South East and East England.
Our care model is great fun to run and it's a lovely business.  I don't think elderly care and fun are words people would expect in the same sentence these days, but it's true. 
Everyone involved with Seniors Helping Seniors® says it's the best job they have ever had. The uniqueness is matching carer to client and ensuring  they have the same values. Ours is a fully managed service.  We ensure our clients are offered flexibility, full support and peace of mind, so if they want to hear a "Yes!" they call us.  A huge thank you to the clients who wrote in about our elderly care services.  This award is a milestone for us" 
Seniors Helping Seniors® impacts in the area of work for older people as well. It is a citizen approach to elderly care where part of the solution to the care problems caused by an ageing population actually lies in the problem itself.  People are living longer and need to work longer.  They want flexible,  responsible and relevant work and they want to feel great doing it.
As a unique opportunity for a potential business owner ,  this is a franchise worth looking into as a valuable use of management and life skills. 90% of Seniors Helping Seniors® franchise owners left the corporate world to start in their home town. A local Care Commissioning Group calls "perfect primary care" because of the impact on keeping well.
The Seniors Helping Seniors Success story
 A subsidiary of the British Business Bank
28/04/2017
Start up loans publishes the Seniors Helping Seniors Success story
Start Up loans delivers the Government's start up loans programme and published the  Seniors Helping Seniors Success story  https://www.startuploans.co.uk/success-stories/seniors-helping-seniors/
Highlighting examples of good practice and innovation in the sector
Care Talk
08/02/2017
What rights do people in care have?
Choose
November 2016
Choose is a UK price comparison site, focused on helping consumers find the best deal and understand their rights.
Evictions from care homes and families being banned from visiting hit the news in November 2016 and since no one is keeping records of these evictions, Choose asked us to explore what rights people in care have.
They asked us to explain
Helping 
people gain the control to plan for elderly care and to feel safe and comfortable in their choices
Choose
19/12/2016
1 What rights do people in care have? helping 
people gain the control to plan for elderly care and to feel safe and comfortable in their choices.
What care options are there for people on a budget?
Choose
22/11/2016
  Choose  asked to write a money feature about care budgets. Looking at elderly care options on a budget and planning ahead to avoid a crisis. What care options are there for people on a budget? how do we ensure access to the elderly care we require, and on a budget that suits us? The key is to start looking before we need to.
Preventing Malnutrition in later life
Malnutrition Task Force
15/11/2016
Malnutrition task force is an independent group of experts across health, social care and local government united to address avoidable and preventable malnutrition in older people.  Established in 2012, they aim to share expertise and work with partners in hospitals, care homes, local authorities and private and voluntary organisations.
As part of Carers Week 2016, they asked us for some some suggestions on how to rekindle an interest in food when a loved has one gone off meals or  lost confidence in the kitchen.
Boosting appetite for someone with dementia or a frail appetite    
Activities around mealtimes
Unforgettable
Unforgettable The world's best marketplace for dementia products and services, asked us to talk about how we use slow cooking to encourage those with frail appetites to be interested in mealtimes again.
The whole mealtime experience is one of the most important contributions to an elderly person's health and happiness. However, if your loved one with dementia is struggling in the kitchen, or not sure what to cook, you may need  some ideas.
Why become a franchisee?
British Franchise Association
Care at home service  Seniors Helping Seniors®  expands-its offering to the London borough of Harrow and Northwood
Membership of British Franchise Association
09/09/2016
Our listingKey information here https://www.thebfa.org/members/seniors-helping-seniors
Care Crisis
BBC Special news report
12/10/16
Seniors Helping Seniors®  Special report on BBC South East evening news
In a News segment about the pace of care home closures and the affects to the quality of care, the BBC featured Seniors Helping Seniors® with a special report on the company's expansion and unique approach. Yvette Austin talked about the new type of care that matches mature carers to clients for in home care.  Focussing on greater understanding and empathy, "clients have someone they can relate to."  Families who live far away say carer Margaret Plues is  "just what she wants" for their parent Ann Cole and carer Margaret explains what is unique about working for Seniors Helping Seniors®
Click on image:
Care Crisis
BBC South East
12/10/16
Our services on lunchtime on helping solve the Care Crisis
news: Click on image
Harrow & Northwood in Middlesex, North London
George Demetriou (left) and Christian Wilse signing the agreement 17.03.2016
How do you know if a care company is trust worthy
Web Videos
Care of the elderly is a sector where trust is everything The Web videos team talk about conveying trust through our video
Living Wage Employer
28/8/2015 Living Wage Mark
Seniors Helping Seniors®  accredited with : Accreditation press release_celebrating new employers
Celebrating the best care in the UK & Further Afield
Caron Cares
August 2016
  Caron Cares  Advice and information for anyone caring for someone elderly, or someone with dementia
Matching the skills and experience of older people to the needs of the elderly in a relationship focussed partnership

Awards Wins
BBC Radio
29/05/2015 BBC Radio's Lembit Opik interviews Christian on our award win
News & Awards 2015:
BBC Radio Kent 29/05/2015: Interviewed by Lembit Opik –
Big Venture Challenge Winner
  28/05/2015   Announcement
Small Business – Service Industries
SCOOT
Innovation & Excellence Award
Social Enterprise
2015 –  Social Enterprise (page 99)
How to Age Proof your body:
 National Story: Daily Mail Article
 19/01/2015
To help keep your mind and memory in good condition, it's helpful to interact more with other people, whether through a job, voluntary work, standing for election as a councillor or starting a new business such as Seniors Helping Seniors®
Sir Muir Gray – One of Britain's top doctors and a former Chief of knowledge for the NHS has mentioned us in his article in the Daily Mail (Mail Online) –
Planning for Later life
April 2015
Canterbury Index Magazine
Canterbury Index Magazine asked us about planning for later life
Read and download our article in Canterbury Index Magazine, April in pdf Planning for Later life 2015
Hospital discharge Crisis
BBC Radio Kent
31/07/2014
BBC Radio's Julia George discusses hospital discharges with Christian
News & Awards 2014:

  BBC Radio Kent 31/07/2014: Call to Julia George
Innovation in Social Enterprise

UnLtd

April 2014

Fast Growth Sustainability Award

"The Judging panel have had the unenviable task of selecting those companies most worthy of one of these prestigious awards and after much deliberation they are pleased to declare Seniors Helping Seniors has been awarded Sustainability Award for Innovation in Social Enterprise."

Seniors Helping Seniors® is a Fast Growth Award Winner for 2014 for its innovative in-home care service – Read more here

Seniors Helping Seniors® services have been part of a recent (April 2014) research "Pushing Boundaries" by UnLtd who supports Social Enterprises. We are case study no 8 on page 30 – you can download the research here UnLtd.org.uk
Planning for Later Life
Annual magazine "Planning for Later Life" on page 46 – You can read an online version here or contact us on 01227 454 900 or send a mail to administrator@seniorshelpingseniors.co.uk and we will mail you a copy.
Do you have the heart of a volunteer? Do you or do you know a friend that would like to help and care for others? We are always looking for loving, giving, caring people that are compassionate about others. Contact us  for a friendly conversation or email contactme@seniorshelpingseniors.co.uk
Photo Gallery at Face book
Photo Gallery from website